Black Box Wifi HD Hidden Camera w/ Night Vision & 4 Year Battery
Features At A Glance
1500 Days Of Standby Power
Motion detection distance Up To 20 Feet away
20 foot night vision range using invisible 940nm IR sensors
Alert notifications
Record weeks to SD card, save snapshots to mobile
Remote monitoring using FREE app from anywhere in the world
720p - 1080x720p High Definition color resolution
Optional overwrite oldest footage, or stop when full
Time/Date stamp on video footage
Record Stunning HD Video & Audio Even In Complete Darkness
All the video being recorded is in crisp & clear HD quality color. This ensures you'll be able to make out all the details of activity in the room you're recording. In addition, the camera lens shoots at an incredible 120° Field of View. At 120° you'll be able to see most of your room, edge to edge without missing a thing. All the video is recorded in MP4 format using H.264 video compression with time/date stamped files for easy saving, emailing or playback on your PC or Mac computer.
4 Year Rechargeable Battery For Long-Term Or On-The-Go Surveillance
When you need to either quickly drop-and-go your hidden camera or place it in an area where outlets are not an option, this system comes with a rechargeable battery that gives you up to 1500+ days of juice on stand-by when you choose the motion activation setting. This means your camera will sit in a dormant state, conserving power until motion is detected, then it will instantly power on to capture everything, without missing a moment. Take out of the box, and plug into any wall outlet to fully charge, and instantly start recording motion activated video. Quick. Simple. Easy. You can choose to keep plugged in, if you wish. Alternatively, you can get up to 10 hours of battery life on continuous recording mode. The included 10,000 mAh Li-ion battery takes about 9 hours to recharge.
Invisible Night Vision Sensor Capture Video In Darkness Up To 20' Away
Automatically, the device will instantly enable the night vision mode and capture subjects up to 20 feet away as soon as its dark enough. There will be no obvious red lights to give away that you are recording in darkness that cheaper products use because of older, outdated technology. Note: when in night vision mode, the video being recorded is black and white.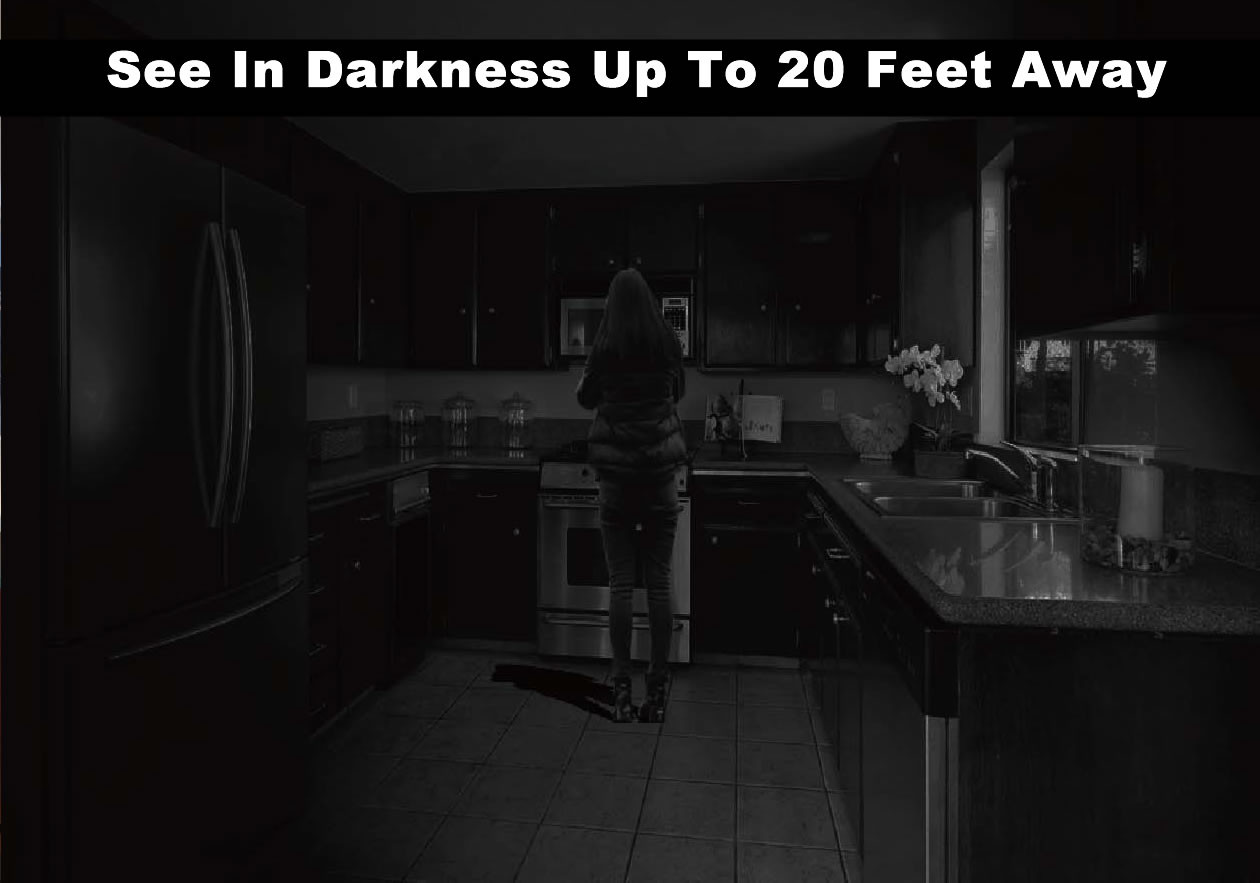 Multi-Camera Viewing w/ Alerts On Smart Phone, PC or Tablet
No techies needed! Connecting to your live remote view camera has never been more easy. Using the free Ez-See home app easily choose your camera, and your watching. Now you can quickly check in on your camera from anywhere in the world with live wifi viewing, and even save a snapshot picture directly on your mobile device. In addition, if you have multiple hidden cameras, you can easily see them all right from the app. As an added bonus, there are built-in alerts that will notify you when motion activated recording has occurred.

Record Weeks Of HD Video Onto A Removable SD Card
Included is a 16GB SD Card, that can record 32 continuous hours of video, automatically set to motion detection activation, so you'll never run out of video memory since most motion only lasts a few minutes. Additionally, you'll be able to "hot-swap" SD cards by easily removing a filled up one, and replacing it with a fresh blank card. This way you'll quickly be able to bring the footage back to your computer for review without ever missing important video.
Time/Date Stamp For Quick ID Provides Unquestionable Proof
All of the video and recorded video files have time and date stamped directly onto the video. This provides clear-cut proof of exactly when the event occurred.
One-Touch Easy-To-Use Settings For Playback Computer Or Mobile Device
Nothing complicated here. Anyone can quickly start using this product with minimal direction. Ready-to-go out of the box, simply turn it on and start recording quality video in darkness.. You're all set. Using the free app, you can connect to the camera remotely to watch the video live. You also have the option to remove the SD card, pop into your computer, and watch the video. Easily save the video files to your computer for unlimited archiving. Watching recorded video will require you to have physical access to the SD card.

Motion Activated & Scheduled Recording Captures The Important Things That Happen
Capture & watch only the action with sensitive, motion activation sensors. No more sitting through hours of video watching an empty room. Plus, with pre and post recording, along with sensitivity adjustments, record up to 2 minutes after the action occurred. If you choose, there is also an option to have scheduled recording times during the hours you wish.The main purpose of PIR function is saving power and storage. When camera set to PIR mode, device will automatically turned off to sleeping mode if it hasn't detect motion for a while (2, 4, 6, 8 ,10 minutes which can be setup in APP- parameter setting).
Note: When camera is under sleeping mode, APP in smart device will not able to connect with camera or wake the camera up remotely. That's due to the characteristic of PIR function and sleeping mode of camera. When camera automatically turned off after a certain time without movement detected, user will not see the blue word "online" in EZ-SEE APP and will see it shows "camera is off line" if user click the camera and try to live view remotely. However, when there's movement detected by PIR sensor of camera, camera will automatically wake up and started to record. In general, smart device will be able to see "online" and see live view in APP after about 45 seconds when movement detected and camera turned on. This is under the condition of constant power, stable Wi-Fi signal and had already be set up to internet mode with Wi-Fi router. If you want camera to always record and able to live view, please click the gear sign for parameter setting and set up the camera schedule from default: P(PIR) to C(Continuous) in "Schedule".
1 Year Warranty & Lifetime Tech Support
Rest assured your investment is protected with a 1 year parts and labor warranty. Exceptional care and superior manufacturing is taken into this product and you'll always have a live body to speak to in the event you have support questions for the life of the product.
| | | | | | | |
| --- | --- | --- | --- | --- | --- | --- |
| Res. | Frame rate | 1G (hr) | 8G (hr) | 16G (hr) | 32G (hr) | 64G (hr) |
| HD | 15 fps | 1.35 | 10.8 | 21.6 | 43.2 | 86.4 |
| D1 | 15 fps | 1.96 | 15.68 | 31.36 | 62.72 | 125.44 |
Specifications
Image Sensor 1/3" CMOS image sensor
Angle of View 120º (D) x 98º (H) x 50º (V)
Video Compression H.264
Video Format AVI
Video Resolution HD (1280*720) / D1 (720x576 PAL, 720x480 NTSC)
Recording Schedule Continuous / PIR / None
Frame Rate Per Second 5, 10 & 15 fps
PIR Auto-off Time 2, 4, 6, 8, 10 minutes
Wifi Standard 802.11 b/g/n
Wifi System Memory 32MB SDRM / 8MB Flash
Wifi Protocol CSMA/CA with ACK
Audio Recording Optional
IR Filter 940nm invisible
IR LED 16 sensors
Battery Capacity 37WH (3.7V 10000mA)
Battery Charger 12V1A adapter
Power Consumption 12V 290mA (recording without LEDs on)
0.2mA (standby)
Operating Temperature 0~+45°C
Recording Storage Micro SD card (up to 64GB)
File Management Full-stop/Overwrite
Dimension 4.7"x 4.7" x 1.4"
Included Items
Main Unit
12V 1A Power Adapter
Professional EZ-SEE software
App for iOS & Android
16GB SD card
PRODUCT HIGHLIGHTS:
Stunning 1080 x 720 HD Video
1500 Day Standby Battery
Motion Activated Recording
20+ Foot Night Vision Range
Continuous Recording
Time/Date Stamp
Record Weeks Of Video
Watch Remotely On Free App
Removable SD Card
Mobile Alerts
Audio Option
1 Year Warranty
4 Reviews
Black Box WiFi with Night Vision

Love the recording ability of this unit. Works terrific and outstanding quality. WiFi connection is quirky, though I don't use that feature. I use it to Record to the Internal SD Card, and then I sync up when back home. Very happy for what I use it for. Thanks SpyAssociates.com for great Support and really cool product.

I ordered this on wednesday and got it on thursday with the free shipping. Haven't set it up yet, but so far really happy with the shopping experience.

Works with nice quality picture

So this is a really cool product. I have 2 of them in the customer desk and in the shop. Overall nice product built well and easy to set up on the phone. I can check in when going out on a call to make sure I know what the guys are doin. You know, when the cats away the mice will play. :) Faces and rooms are clear, even at night time. Sees the entire rooms and hardly noticeable sitting on the shelves with all the other stuff on top.

Black box nightvision camera

It arrived quickly as they stated. I need a few of these for around my summer house because I didnt have outlets to plug anything in where I needed them. My husband helped me set them up which was easy for the most part. Been using it for 3 weeks now and I'm pretty impressed and COMPLETELY satisfied with my purchased. The quality of the video on the SD cards are really good and watching from my iphone is good too, but it can sometimes get a little choppy. Internet? I dont know. Plus the video is not a continuous long video on the SD card. It records them as a lot of video files that last a few minutes. The batteries still have power after almost a month so I' really happy with that too. I dont know if they will last 4 years like it says, we shall see if I even need it for that long. It sees really good at night too when watching from my phone.
Write a Review
Shipping & Returns
*HIDDEN CAMERAS WITH AUDIO PRODUCTS:
Notice: When audio waiver is required, on some items, please allow an extra 3 days for custom build and testing before shipping, which includes next day orders. If this is a problem please call us for speed options and we will do everything in our power to help expedite your order along.
Audio devices may not be used to violate the privacy rights of others. In no way will Spy Associates or its subsidiaries or partners be held responsible for inappropriate use of these products.
*What does Must Sign Audio Waiver Mean?
You'll notice on some products that have an audio option, we require a signed waiver sent back to us once your order is completed, if you are within the United States, and the product is to be used solely by law enforcement, government, or an international shipping location.
FREE Ground Shipping On All Items
Receive free ground shipping on all items we carry. Depending on your location, carrier may vary depending on maximizing delivery speed to your location.
Same Day Shipping - Order By 2pm EST Monday - Friday
Your Order will be given to the shipping carrier the same day you place the order, not including national holidays & weekends. Any order placed after 2pm weekdays or on Saturday / Sunday will be shipped out the next business day.
Some custom built products may require up to 48 hours, which includes custom audio add-ons that may require 72 hours. You will be notified of any delays as soon as possible.
International Shipping & Customs
YES! We ship worldwide. On International Orders, any CUSTOMS FEES are the responsibility of the purchaser NOT SpyAssociates. Every country's import rules are different, so it's impossible to guess how much, and if any fees may apply.
Return Policy
We test all of our products before shipping to ensure they are in working order.
Your Satisfaction Is Our Number One Concern
REQUESTS TO RETURN PRODUCTS MUST BE OBTAINED FROM Spy Associates WITHIN A TEN (10) DAY PERIOD AFTER THE CUSTOMER HAS RECEIVED THE PRODUCT(S).
All products which are special ordered by the person ordering and are NOT subject to cancellations. Due to the nature of our product line, returns will only be accepted for products damaged upon shipment to the customer*. All returns must be authorized by SpyAssociates.com before product(s) is returned. SpyAssociates.com will replace, refund, or credit your account for returned product(s) at SpyAssociates.com's discretion. We have been forced to implement this policy because of the attraction of our products to unscrupulous people who return products after they have profitably gained from the short-term use of the products.
*Special exceptions may be made on a case by case basis determined by SpyAssociates.com. In this event, returns are subject to deductions for shipping costs and a 25% restocking charge and must be returned within a ten (10) day period from date of receipt of product(s). NO refunds will be given for products returned without explicit permission from SpyAssociates.com.
You Are Guaranteed QUICK & ACCURATE Service
Any return must be authorized by a representative of SpyAssociates.com and under no circumstances will returns be accepted otherwise. Authorization and shipping instructions must be obtained from SpyAssociates.com. No returns will be authorized after ten (10) business days of receipt of product(s) by the customer, unless found to be defective, in which case we will replace at no charge once returned with authorized RMA.
We at SpyAssociates.com strive to offer our customers the best products at the best possible prices. Due to the nature of the products, returns will not be accepted unless the product is found to be defective or unless otherwise explicitly stated on the specific SpyAssociates.com product page.
Shipping & Handling Charges Are Non-refundable.
WARRANTY:
Every product receives FREE LIFETIME SUPPORT. We guarantee all SpyAssociates.com products to be free of defects in workmanship and material for 90 days (some manufacturer's warranty is one (1) year or lifetime - please see info on the page for specific product's details) after sale to the customer. We will replace or repair the product(s) at our option providing there is no evidence of customer misuse, or alteration.