Product Description
Self Defense - Pepper Spray Devices - Bear Spray

The Sierra Club wants the Forest Service to require everyone who enters a national forest in grizzly bear country to carry bear spray Spokeswoman Heidi Godwin said in a news release, "The proper use of bear pepper spray will reduce human injuries caused by bears, reduce the number of grizzly bears killed in self defense, and help promote the recovery and survival of the grizzly bear."

Great news for true outdoor enthusiasts! Now you can protect yourself against possible bear attacks, with safe, humane Pepper Mace Bear Spray. This powerful Magnum Fogger sprays up to 30 feet! Empty in approximately 5.4 seconds. 80346 contains 260 grams and measures 8-3/4" x 2".

Make sure that the spray you are using is registered with the EPA for use against bears. There is a special formula for this and ordinary pepper spray is not recommended.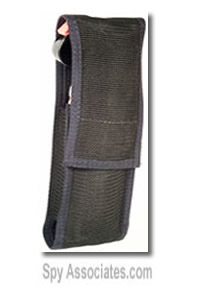 Nylon Holster Available for Bear Spray Canisters
Find Similar Products by Category
Customers also viewed