Notebook HD Hidden Camera w/ Night Vision & 2 Year Battery
Notebook HD Hidden Camera w/ Night Vision & 2 Year Battery
Features At A Glance
Stunning 1080 x 720p Clear HD Color Video at 30FPS
16GB included, can use up to 32 GB SD Card
Motion detection distance Up To 25 Feet away
2 year stand-by battery / 30 hours continuous / 9 hour night vision
PIR angle 60 degrees
Camera angle 75 degrees
Date / Time Stamp
Invisible Night Vision sensors See 15' in Extreme Darkness (note: Night Vision is Ultra Crisp Black / White)
20 Hours To Fully Charge Battery
Optional overwrite oldest footage, or stop when full
One-touch easy-to-use features

Dimensions (inches):

Size: 8.23*5.9*1.57 inch
Record Stunning HD Video & Audio Even In Complete Darkness
At only 15 ounces, built into the spine of a working 3-ring notebook, this is truly the smallest HD video camera that comes with all these incredible features. Simple and easy-to-use , this is the perfect camera to take anywhere you can imagine. Just slide the button and you're recording continuously or motion activated. That's all there is to it it! It records at 720p - 1280x720 video in AVI format at 30 frames per second with stabilizing features to keeps away blur and distortions.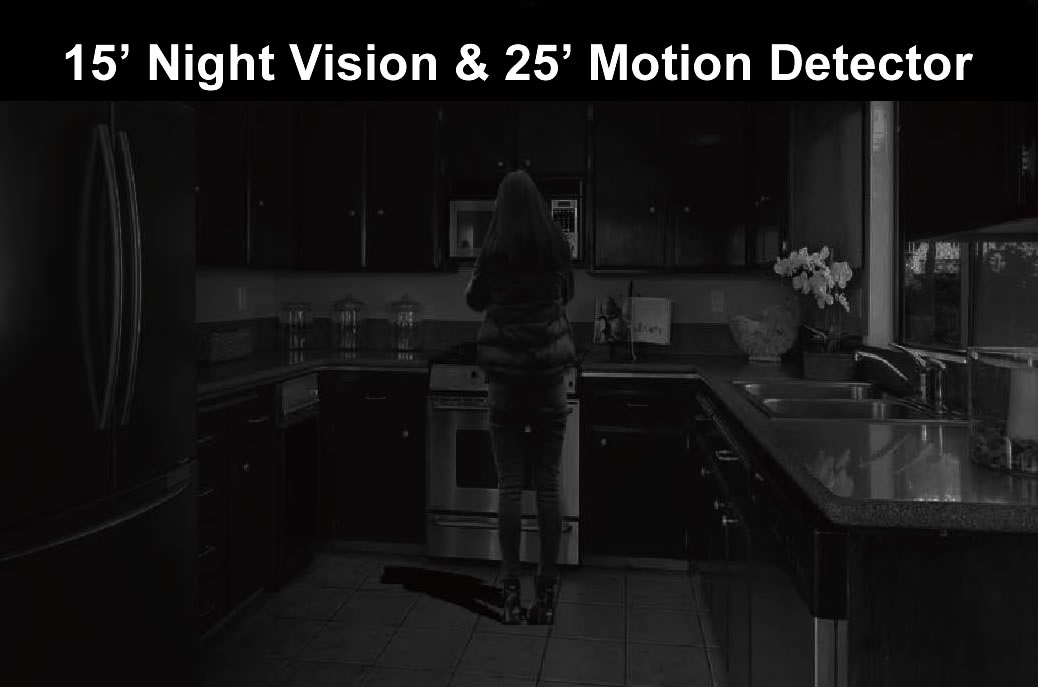 Invisible Night Vision Sensor Capture Video In Darkness Up To 15' Away
Automatically, the device will instantly enable the night vision mode and capture subjects up to 15 feet away as soon as its dark enough. There will be no obvious red lights to give away that you are recording in darkness that cheaper products use because of older, outdated technology. Note: when in night vision mode, the video being recorded is black and white.
Blends Anywhere For Long-Term Or On-The-Go Surveillance
Nothing looks more inconspicuous than a book. Especially a book with a hidden camera inside. Whether you need to keep it on a shelf, or your desk, this is sure to capture all the action when it happens...today,tomorrow or 9 months from when you sit it on a shelf. Better yet, if you need something with extreme portability, this can be taken on-the-go offering the same power, functions and features on demand.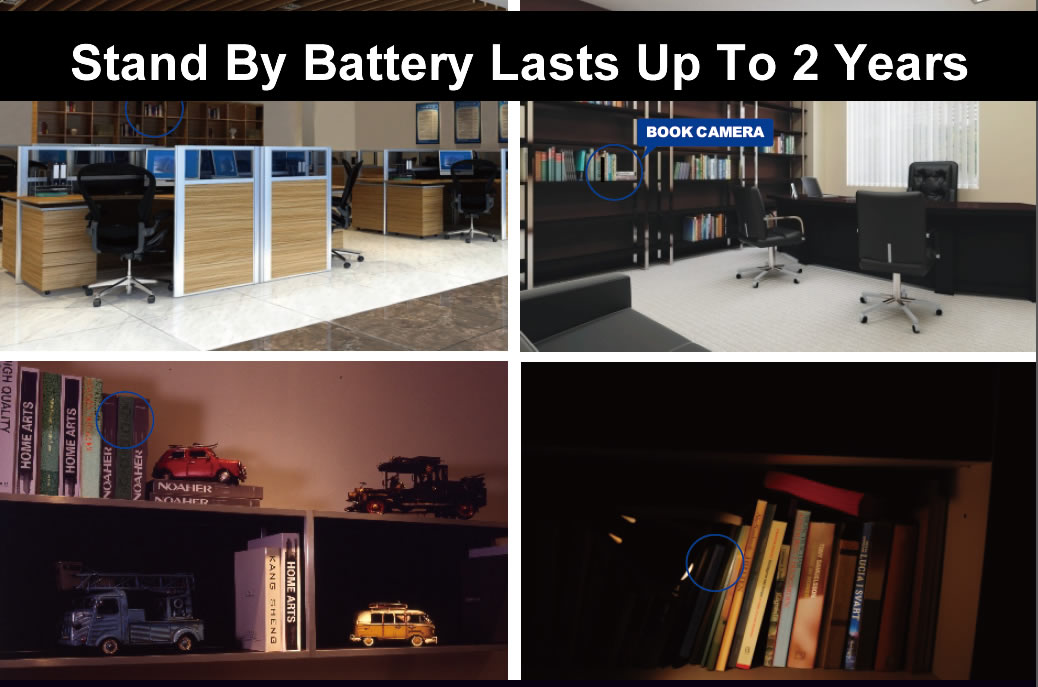 Motion Activated Recording Power Saving Mode Lasts Up To 2 Years
Using the PIR motion activation switch, you can change from recording all the time, to motion activated only recording that detects a 60 degree angle of motion. This way battery life can remain in stand by mode for up to 2 years until it is activated by motion. The more motion that is present, the quicker battery life will drain. The unit comes complete with built-in quality rechargeable battery that fully recharges in about 20 hours, by plugging directly to a USB port or faster using a USB power outlet. Once unit is charged, it is capable of recording for up to 30 hours continuously, or about 9 hours continuous recording if night vision mode is active.
You can also plug the included USB cable into a power bank to get significantly longer portable power. Please note there is about 1.8 second delay from the time motion is detected until the recording starts.
Easily Transfer Time/Date Stamp Footage To Any Computer
All files will be saved with the exact date and time it was recorded in 2 minute intervals. Transferring files is also a snap. Use the included USB cable to move your data from the unit to your computer.
One-Touch Easy-To-Use Settings & Features
Anyone can quickly start using this product with minimal direction. Ready-to-go out of the box, simply turn it on and start recording quality video in darkness.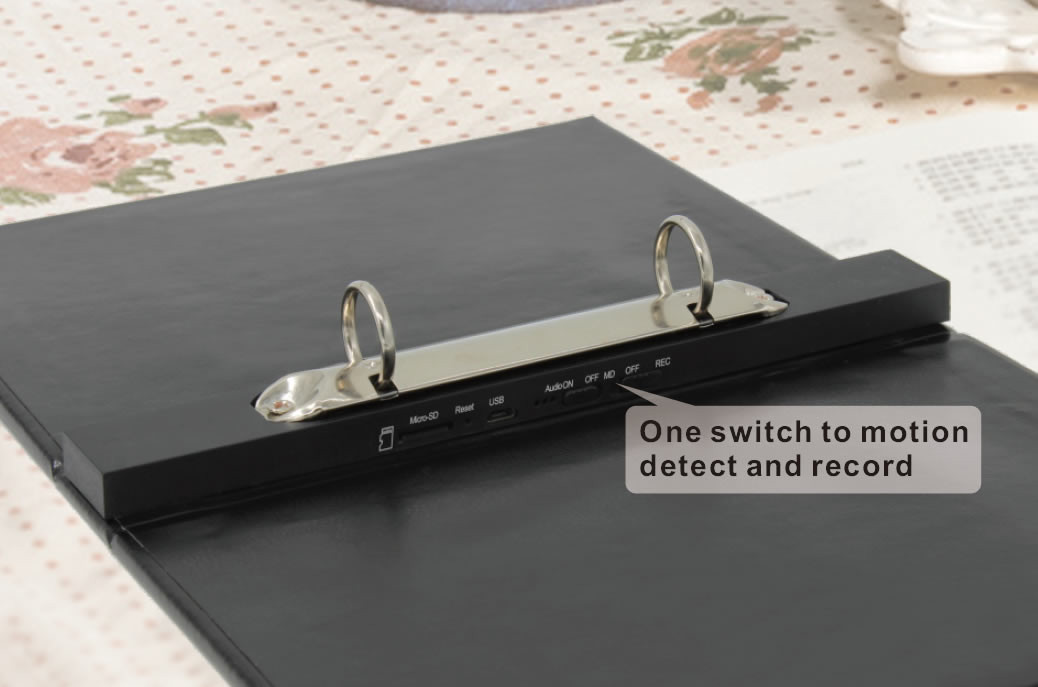 Specifications:
Size: 8.23*5.9*1.57 inch
Product net weight: 415g
Battery: 10000mAh
Standby power consumption: 10uA
PIR detection angle: 60 degrees
PIR detection distance: 15-25 feet
Camera Lens angle: about 75 degree
Max PIR standby time: 24 month
Day time recording power consumption: 220mAh
Max day time continuous recording time: about 30 hours
Night vision recording power consumption: 820mAh
Max night vision continuous recording time: about 10 hours
Fully Charged time: about 20 hours by 2A USB power adaptor
Video Resolution: 720p/30fps
PIR MD video length: about 1 minute per file
Normal video Recording length: about 2 minutes per file
Max Micro SD storage: 32 GB
Loop recording: on/off adjustable (Default as on)
PRODUCT HIGHLIGHTS:
Stunning 1080x720 HD Video
Record Weeks to Months
25' Motion Detection
2 Year Standby Battery
15' Night Vision
Time/Date Stamp
Audio Option
Motion Detection Recording
Works w/ PC or Mac
Super Quick & Easy On / Off
Lifetime Warranty
1 Review
Just one switch and video looks really good too

First, I ordered this with free shipping, thinking it would take about a week to get, and was shocked when it arrived only 2 days later. Wow.. Second, it was really easy to use. Nothing complicated. A single switch to turn on, thats it. Third, the video quality is really good. I placed this on a shelf to watch my cleaning people, and its impossible to see there is a hidden camera. I watched them walk right up to it and even move it to clean. Very happy with my purchase.
Write a Review
Shipping & Returns
Audio devices may not be used to violate the privacy rights of others. In no way will Spy Associates or its subsidiaries or partners be held responsible for inappropriate use of these products.
FREE Ground Shipping On All Items
Receive free ground shipping on all items we carry. Depending on your location, carrier may vary depending on maximizing delivery speed to your location.
Same Day Shipping - Order By 2pm EST Monday - Friday
Your Order will be given to the shipping carrier the same day you place the order, not including national holidays & weekends. Shipping days do NOT include weekends UNLESS you order SATURDAY DELIVERY at checkout. Any order placed after 2pm weekdays or on Saturday / Sunday will be shipped out the next business day.
Some custom built products may require up to 48 hours, which includes custom audio add-ons that may require 72 hours. You will be notified of any delays as soon as possible.
International Shipping & Customs
YES! We ship worldwide. On International Orders, any CUSTOMS FEES are the responsibility of the purchaser NOT SpyAssociates. Every country's import rules are different, so it's impossible to guess how much, and if any fees may apply.
Return Policy
We test all of our products before shipping to ensure they are in working order.
Your Satisfaction Is Our Number One Concern
REQUESTS TO RETURN PRODUCTS MUST BE OBTAINED FROM Spy Associates WITHIN A TEN (10) DAY PERIOD AFTER THE CUSTOMER HAS RECEIVED THE PRODUCT(S).
All products which are special ordered by the person ordering and are NOT subject to cancellations. Due to the nature of our product line, returns will only be accepted for products damaged upon shipment to the customer*. All returns must be authorized by SpyAssociates.com before product(s) is returned. SpyAssociates.com will replace, refund, or credit your account for returned product(s) at SpyAssociates.com's discretion. We have been forced to implement this policy because of the attraction of our products to unscrupulous people who return products after they have profitably gained from the short-term use of the products.
*Special exceptions may be made on a case by case basis determined by SpyAssociates.com. In this event, returns are subject to deductions for shipping costs and a 25% restocking charge and must be returned within a ten (10) day period from date of receipt of product(s). NO refunds will be given for products returned without explicit permission from SpyAssociates.com.
You Are Guaranteed QUICK & ACCURATE Service
Any return must be authorized by a representative of SpyAssociates.com and under no circumstances will returns be accepted otherwise. Authorization and shipping instructions must be obtained from SpyAssociates.com. No returns will be authorized after ten (10) business days of receipt of product(s) by the customer, unless found to be defective, in which case we will replace at no charge once returned with authorized RMA.
We at SpyAssociates.com strive to offer our customers the best products at the best possible prices. Due to the nature of the products, returns will not be accepted unless the product is found to be defective or unless otherwise explicitly stated on the specific SpyAssociates.com product page.
Shipping & Handling Charges Are Non-refundable.
WARRANTY:
Every product receives FREE LIFETIME SUPPORT. We guarantee all SpyAssociates.com products to be free of defects in workmanship and material for 90 days (some manufacturer's warranty is one (1) year or lifetime - please see info on the page for specific product's details) after sale to the customer. We will replace or repair the product(s) at our option providing there is no evidence of customer misuse, or alteration.
This device will only connect to 2.4 GHz Wi-Fi Networks.
We are unable to guarantee Wi-Fi connection will work with all routers. Although most networks are compatible, certain routers enact stricter security measures that may block remote connections to the camera. Some examples likely to experience these issues are hotels/motels, corporate networks, 4g hotspots, open wifi networks like Starbucks, etc.