Wireless Encrypted Digital Camera System
Brand

In Stock
Free Shipping
The HS420D wireless camera features digital technology and boosted range. It's perfect whether you need a nanny camera, home or business surveillance, or automobile security. The improved camera features a 1/4" CMOS image sensor as well as a long transmission range of up to 200 meters in open space.
Next-generation digital technology. Digital circuitry ensures no lost video due to external wireless devices, such as WiFi and cellular. The transmitter uses the 2400MHz (2.4GHz) sub channels to eliminate interference from wireless routers. The digital nature as well as manual pairing of the camera and receiver means that nobody will be able to tap in to your signal and see your video stream!
Effortless to use. Setting up the camera could not be any more painless. Simply connect the included AC adapter to the camera, then attach the wireless receiver to the VCR, television, or monitor, and pair the devices.
Quality audio and video. Color video displays in 420 TVL resolution with a low light 3 LUX camera and a built in microphone captures all audio in the area.
Easily concealed. Covert video surveillance has never been easier. It's tiny size makes hiding this camera no problem. Hide in a plant, a book, a video case, air vent, automobile, the only requirement is to make sure the small lens is facing the video surveillance target. When properly placed, the wide camera angle will give you a complete view of a normal size room
Technical Specs:
Receiving Frequency: 2400 Hz-2480 Hz
Method of Regulation: FSK
Working Temperature -20°C - 60°C
Dimensions: 19 x 9.5"
Power: DC 5V/800mA
Camera
Video System: PAL/NTSC
Valid Pixel:
PAL: 628 x 582
NTSC: 510 x 492
Image Device: 1/4" CMOS image sensor
Lens Aperture: F/1.2
Horizontal Definition: 480 TVL
Minimum Illumination: 3 Lux
Scan Frequency:
PAL/CCIR: 50 Hz
NTSC/EIA: 60 Hz
Open Transmission Distance: 656 feet
Transmission Power: 17dBm
Receiver
Receiving Sensitivity: up to -85 dBm
Size: 106 x 68 x 23 mm
Weight: 200 g
Power Consumption: ~3 Watts
Technical Specs:
1 x Full Color Miniature 2.4GHz Wireless Video Camera
1 x Perfectly Matched 2.4GHz Wireless Receiver
1 x Video Cable For Receiver To VCR/TV Hook Up
2 x AC Adapters (1 for camera, 1 for receiver)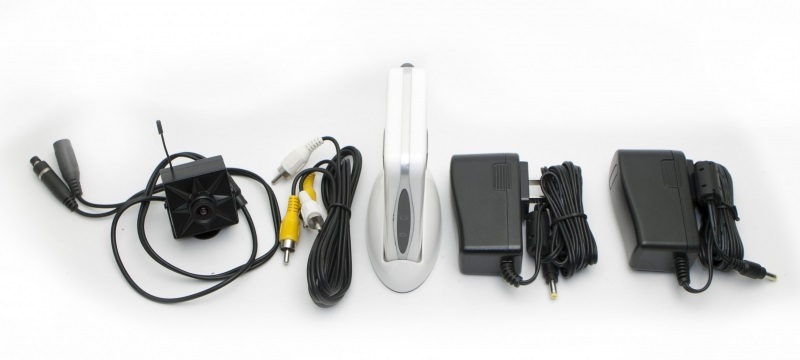 0 Reviews
This product hasn't received any reviews yet. Be the first to review this product!
Write a Review
Shipping & Returns
Audio devices may not be used to violate the privacy rights of others. In no way will Spy Associates or its subsidiaries or partners be held responsible for inappropriate use of these products.
FREE Ground Shipping On All Items
Receive free ground shipping on all items we carry. Depending on your location, carrier may vary depending on maximizing delivery speed to your location.
Same Day Shipping - Order By 2pm EST Monday - Friday
Your Order will be given to the shipping carrier the same day you place the order, not including national holidays & weekends. Any order placed after 2pm weekdays or on Saturday / Sunday will be shipped out the next business day.
Some custom built products may require up to 48 hours, which includes custom audio add-ons that may require 72 hours. You will be notified of any delays as soon as possible.
International Shipping & Customs
YES! We ship worldwide. On International Orders, any CUSTOMS FEES are the responsibility of the purchaser NOT SpyAssociates. Every country's import rules are different, so it's impossible to guess how much, and if any fees may apply.
Return Policy
We test all of our products before shipping to ensure they are in working order.
Your Satisfaction Is Our Number One Concern
REQUESTS TO RETURN PRODUCTS MUST BE OBTAINED FROM Spy Associates WITHIN A TEN (10) DAY PERIOD AFTER THE CUSTOMER HAS RECEIVED THE PRODUCT(S).
All products which are special ordered by the person ordering and are NOT subject to cancellations. Due to the nature of our product line, returns will only be accepted for products damaged upon shipment to the customer*. All returns must be authorized by SpyAssociates.com before product(s) is returned. SpyAssociates.com will replace, refund, or credit your account for returned product(s) at SpyAssociates.com's discretion. We have been forced to implement this policy because of the attraction of our products to unscrupulous people who return products after they have profitably gained from the short-term use of the products.
*Special exceptions may be made on a case by case basis determined by SpyAssociates.com. In this event, returns are subject to deductions for shipping costs and a 25% restocking charge and must be returned within a ten (10) day period from date of receipt of product(s). NO refunds will be given for products returned without explicit permission from SpyAssociates.com.
You Are Guaranteed QUICK & ACCURATE Service
Any return must be authorized by a representative of SpyAssociates.com and under no circumstances will returns be accepted otherwise. Authorization and shipping instructions must be obtained from SpyAssociates.com. No returns will be authorized after ten (10) business days of receipt of product(s) by the customer, unless found to be defective, in which case we will replace at no charge once returned with authorized RMA.
We at SpyAssociates.com strive to offer our customers the best products at the best possible prices. Due to the nature of the products, returns will not be accepted unless the product is found to be defective or unless otherwise explicitly stated on the specific SpyAssociates.com product page.
Shipping & Handling Charges Are Non-refundable.
WARRANTY:
Every product receives FREE LIFETIME SUPPORT. We guarantee all SpyAssociates.com products to be free of defects in workmanship and material for 90 days (some manufacturer's warranty is one (1) year or lifetime - please see info on the page for specific product's details) after sale to the customer. We will replace or repair the product(s) at our option providing there is no evidence of customer misuse, or alteration.
This device will only connect to 2.4 GHz Wi-Fi Networks.
We are unable to guarantee Wi-Fi connection will work with all routers. Although most networks are compatible, certain routers enact stricter security measures that may block remote connections to the camera. Some examples likely to experience these issues are hotels/motels, corporate networks, 4g hotspots, open wifi networks like Starbucks, etc.