Spy Hawk® GPS Turbo Portable Real-Time GPS Tracker
Spy Hawk® GPS Turbo Portable Real-Time GPS Tracker
Retail Price: $399.00
Sale Price: $229.00
Watch Vehicle, Person or Asset Move Across Your Screen LIVE as it happens!

Top Features Of Our GPS Tracking System
10 Second Tracking Updates w/ Live Turn By Turn Mapping
GeoFence Zone Alerts
Speed Alerts
90-Day Historical Playback / up to 12 Months upon request
Precise 8 Inch Position Accuracy
Instant Google Satellite & Google Street View Maps
Current Address Lookup
Unlimited Text or Email Alerts to one or multiple recipients
Transmits Location data every 20 feet if walking and once every 10 seconds if driving
Live Weather Radar

GPS and 4G connectivity

Ultra-Sensitive Built-In Motion Sensor
Rechargeable Battery and View Real Time Activity via Mobile or Desktop
Contacts & Addresses Stored For Easy Access
Route Alerts For Assets
Worldwide Tracking Options
Simple To Use
FREE Live Support
Accurate Unlimited Real-Time Tracking
No Long Term Contracts! No Hidden Fees Ever! Works Worldwide!
There is no power indicator on the device. Power (in percentage zero to 100%) shows on the website when you mouse over the device, similar to satellites in view. No buttons. No frills. Just a good solid device in a sexy housing, with the fastest updates and longest battery life per update in the industry.
Ultra-sensitive GPS technology enables operation in previously impossible locations, even when blocked from direct view of the sky. It operates in rigorous environments such as urban canyons, heavy foliage, under car seats, in the glove box and indoor environments. The Spy Hawk® PRO GPS raises the bar on tracking with its compact size and extended battery life. The Spy Hawk® GPS Tracker is made specifically for commercial heavy-duty use. It is commonly used for fleeting, cargo transport, rail, ocean liners, construction and heavy equipment.
It can be packed into boxes, containers or crates that are loaded onto carriers. The Spy Hawk® GPS Tracker is the most accurate and reliable tracker on the market. It has the strongest signal strength in the industry.
Essential GPS Tracker Upgrades
120 Day Extended Battery & Slap & Track Weatherproof Case
(Dimensions (appx.) 5.5" L x 3.5" W x 2" H)
When tracking an average of 1 hour a day, the magnetic case for under vehicle mount uses incredibly powerful magnets that will not come loose in extreme conditions. Simply slap and track! Average Operating Time:100-120 Hrs Continuous Motion (i.e. If on a person or vehicle and moves 1 hr per day, the Spy Hawk Turbo will operate for several months between recharge needs.(up to 100 Hours of Wheels in Motion Time).
By purchasing our Extended Long Life Battery, usage between recharge needs will be approximately 110-100 Hours of Wheels on the Ground Drive Time.
Geofence, Speed, Idle, Ignition Alerts & More
Geofence Alerts
Ever wonder exactly when they arrived or left a location? Now you can know instantly with geofence alerts. Simply draw an area around the Google map location and get an alert via text or email the moment it happens. Looking for more advanced control? Sure thing. If the tracker is not supposed to enter or exit an area between the hours of 9pm and 3am, now you'll know. No matter how large or small the area is, you can set this up as quickly as it takes you to draw a square. If you need to know exactly when someone exits or enters an area at a specific time, you will. Simple as that.
Speed Alerts
Imagine knowing exactly how fast they're driving at a moments notice. With speed alerts, you're sitting in the drivers seat by setting a speed threshold you feel comfortable with, say 66 Mph, and get a SMS or email alert the moment that speed is reached. The speed is also saved in the history, so it's easy to run a quick speed report over the past day, week, month to know each and every time that speed limit was broken. Additionally, there is a low battery alerts so you'll know exactly when it's time for a re-charge.
Knowing their speed and driving habits can save their lives and your insurance. With our system you log onto the tracking website secured with your very own User Name & Password and instantly you will be remotely tracking your vehicles from your computer. It's that easy! Need to track your 16-year old who got his/her license last week? Not a problem. You can even see how fast they're driving when you're not in the car with them. Need to watch your Nanny with your kids? Not a problem, now you will know every step she makes!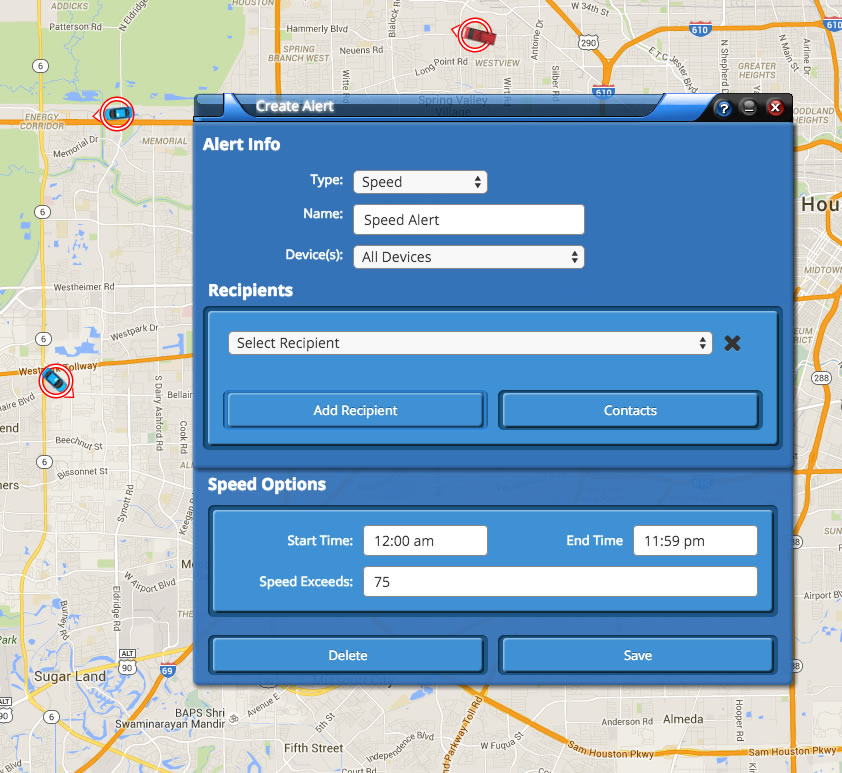 90-Day+ Historical Playback
Enjoy up to 90 days of full historical playback of all location data of every single tracker on your plan. Fast-forward, rewind, pause, zoom-in or zoom-out...everything you need is at your fingertips. All activity is saved and can be played back as easy as a you tube video with traditional playback controls. Export the reporting data for archiving or more. Need more than 90 days? No problem. Let us know and we're happy to get you as much history as your needs require.
Built-In Motion Sensor Extends Battery Lifetime To Months Of Tracking:
Because we've embedded a motion sensor, and because it only burns battery when moving, battery life on a charge is based entirely on the total number of transmissions, but... straight-through nonstop travel time yields about 8 to 10 continuous hours of usage on 10 second updates. If you were tracking a vehicle which only drove an hour a day, battery life would be somewhere on the order of 8 to 10 days. When using the extended battery option, receive up to 100 hours of continuous tracking, which also goes into sleep mode when no movement is detected. Sleep mode can extend the battery life for months.
Complete Reporting For Any Scenario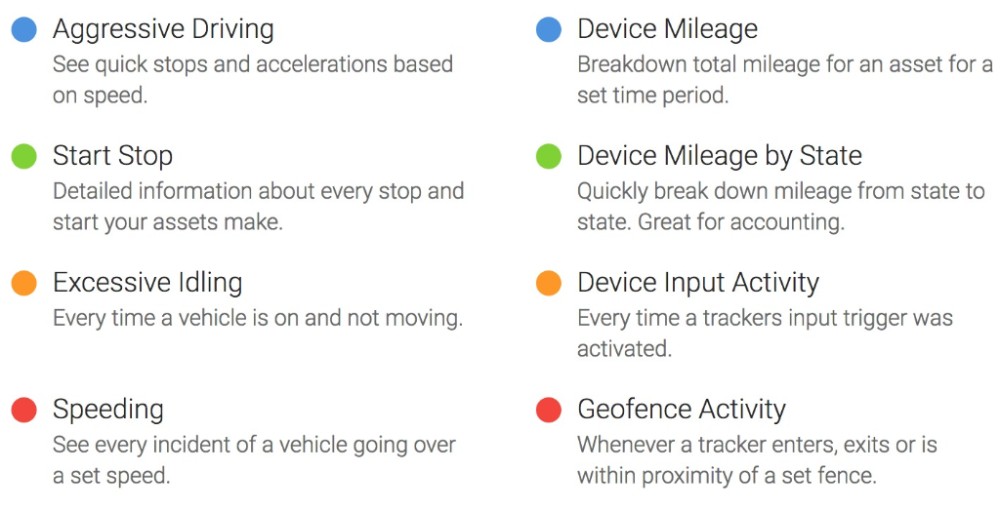 Live Weather Radar Protect Your Employees and Your Assets
Stay ahead of any weather condition with live weather radar. Giving ample time to secure or reroute your assets.
Our convenient live weather feature allows drivers and business managers to view an overlay of current radar information over any GPS tracking map. Radar data is provided by the National Weather Service and is updated every 10 seconds for maximum accuracy. Radar information includes the full range of temperatures and conditions, from light rain and snow to dangerous thunderstorms and icy blizzards. This data can be played back or looped as needed to help you and your team make business-critical decisions.
Being able to view live weather along any asset route provides a number of convenient benefits:
Real-time updates allow you to make decisions on-the-fly.
Weather overlay provides location-accurate information regarding conditions along a specified route.
Pre-planning is made easier, as you'll be able to anticipate weather delays and route around storms ahead of time.
Constant updates allow drivers to address sudden weather changes and make slight adjustments to their route.
Live Traffic Conditions
Keep your fleet on time with live integrated traffic. Avoiding costly slow downs due to backups and stand stills. Time is money, need we say more? When your fleet is on the road 24/7 and time is of the essence, it can be stressful not being able to anticipate slow-downs and stand-stills in traffic. With our Fleet Tracking's live traffic conditions, you can see what's happening on the road in real time. Simply log on to our web-based tracking system and check the live traffic map for average traffic speeds, lane closures, reported accidents, rush-hour backups, and much more.
Being able to see current traffic conditions and anticipate issues further along a driver's route allows you to plan the most efficient trip possible—a major benefit for both drivers and managers. Time is money in the business world, and in the case of your fleet, unexpected slow-downs can mean lots of wasted fuel, extra employee hours, delayed deliveries, unhappy customers, and other potential costs. With convenient GPS tracking system features like real-time traffic information, you can minimize these losses by staying informed at all times.
Live GPS Tracking Monthly Fees
Why are there monthly fees for GPS tracking devices?
Just like a cellphone, GPS trackers need a data plan to send the location data from your tracking device to our private network servers. This provides you with live, accurate location data quickly in order to know instantly when your vehicles and/or assets are at any given time. Weather the tracker is on the move, entering into geofenced areas, or to run reports on mileage, speed and even to view hours of operation to name a few.
If you are looking for no monthly fees, then a good option is to check out our GPS Loggers, which record all data for later retrieval.
NO CONTRACTS - CANCEL ANYTIME
$25.00 - One-time Activation Cost at Sign-up only
$39.95 - Monthly USA/CANADA - Unlimited Tracking - Cancel Anytime
$49.95 - Outside USA
This is TRULY THE # 1 Real Time Portable GPS Tracking Solution in the Industry today
Real-Time Live GPS Tracking Scenarios
Security Companies - Know the exact location of all your security patrol officers
Nanny & Teenagers
Government & Military
Fleet Management - Know the exact location of your entire fleet and company vehicles
Mid to Large Size Companies - Know the exact location of all your salesmen and service technicians.
Law Enforcement - Know the exact location to determine where the nearest response officers are located for rapid deployment.
Rental Vehicles - Know the exact location of your rental vehicles for recovery if required.
Hazardous or Critical Cargo - Know the exact location of critical cargo at all times as they are moving.
Personal Vehicles - Know the exact location of where your personal vehicles are now and where they have been through out the day, week or month.
Family Members - Get better insight to suspicious questionable activity.
Special Needs Patients & Alzheimer's
911 Emergency Services
Knowing their speed and driving habits can save their lives and your insurance. With our system you log onto the tracking website secured with your very own User Name & Password and instantly you will be remotely tracking your vehicles from your computer. It's that easy! Need to track your 16-year old who got his/her license last week? Not a problem. You can even see how fast they're driving when you're not in the car with them. Need to watch your Nanny with your kids? Not a problem, now you will know every step she makes!
The #1 Covert Wireless GPS Tracker Is "The Private Investigator's Dream Machine"
The "Spy Hawk® GPS" is a self-contained, battery-powered covert wireless gps unit that has no external connections or antennas. It can be instantly placed inside a vehicle's passenger glove box or under the seat without the time consuming and expensive installations associated with many other GPS devices. The enhanced GPS sensitivity of the "Spy Hawk® GPS" locator permits the units placement in areas where other conventional GPS may not work. The PREFERRED Solution used by F.B.I., Bounty Hunters, Private Investigators, Law Enforcement and Military for its SUPERIOR MAPPING, Ease of Use AND it's the Smallest "Portable" Unit of its kind"
GPS Tracker Specifications:
Dimensions: 3.9" L x 2.28" W x 0.9" D
Battery: Rechargeable Li-Ion Battery 1340 mph 3.7V
GSM Channels: 850/1900 (United States) 900/1800 (Europe, Australia, & Middle East)
Operating Temperature: -22 degrees F to 158 degrees F
Operating Voltage Range: 150mA during transmission | less than 1mA at rest
GPS Tracking Of Up To 14 Satellites
Cellular Channels: 850/1900 (United States), 900/1800 (Europe, Australia, Asia and Middle East), GLONASS
Average Operating Time:10-12 Hrs Continuous Motion
(i.e. If on a person or vehicle and moves 1 hr per day, the Spy Hawk Turbo will
operate for about 10-12 days, without additional extended battery)
Antenna/Modem: Quad band GSM/GPRS+GPS | integrated into device
PRODUCT HIGHLIGHTS:
Fast 5-10 Second Updates
8 Inch Accuracy
GPS and 4G connectivity
90-Day History (up to 1 year)
10 Hour Rechargeable Battery
120 Hour Battery Upgrade Option
Motion, Idle & Speed Alerts
Google Maps
Browser & Mobile Viewing
Advanced Reporting
Works in USA or International
1 to 1000+ Fleet Support
FREE Integrated Chat Support
No Contracts
$39.95 Per mo. USA / Canada
1 Year Warranty
Lifetime Support
12 Reviews
Wow is all I can say.....the Best we have seen yet!!!

This GPS Is by far the best we have used.
Thanks SpyAssociates.com, you guys rock!!!

Best GPS that we have ever used.....Wow!!!

By far the best we have seen and used. Thanks SpyAssociates.com, you guys have incredible service. Highly recommended!!!

Incredible Tracking Service!

We have used others, and this by far is the best in the business. Thank you for the incredible support and service. You guys rock!

SpyHawk TURBO PRO is incredible. On the money....worth every penny!!!

Right out of the Box you can see the quality and difference. Have already solved 1st case and recommended to my superiors.

By far the BEST GPS we have ever used. Tracks perfectly.

Longest Battery life of any unit we have used. By far the best we have ever used in over 20 years in this business. Excellent support. This product rocks!!!

Spy Hawk TURBO PRO GPS is by far the BEST we have ever used!!!

Talk about fast updates, and incredible mapping. This is the best we have ever used.

Best Tracker I have ever used! Thanks SpyAssociates.com

I've used them all, and this is # 1. Cannot believe how accurate and how quick the updates are. Thanks SpyAssociates.com for the great service you provide

This GPS is by far the BEST I have ever used!!!!!

This GPS is by far the BEST I have ever used!!!!! Accurate beyond my expectations. You guys ROCK!!!
Write a Review
Shipping & Returns
Audio devices may not be used to violate the privacy rights of others. In no way will Spy Associates or its subsidiaries or partners be held responsible for inappropriate use of these products.
FREE Ground Shipping On All Items Over $199
Receive free ground shipping on all items we carry. Depending on your location, carrier may vary depending on maximizing delivery speed to your location.
Same Day Shipping - Order By 2pm EST Monday - Friday
Your Order will be given to the shipping carrier the same day you place the order, not including national holidays & weekends. Shipping days do NOT include weekends UNLESS you order SATURDAY DELIVERY at checkout. Any order placed after 2pm weekdays or on Saturday / Sunday will be shipped out the next business day.
Some custom built products may require up to 48 hours, which includes custom audio add-ons that may require 72 hours. You will be notified of any delays as soon as possible.
International Shipping & Customs
YES! We ship worldwide. On International Orders, any CUSTOMS FEES are the responsibility of the purchaser NOT SpyAssociates. Every country's import rules are different, so it's impossible to guess how much, and if any fees may apply.
Return Policy
We test all of our products before shipping to ensure they are in working order.
Your Satisfaction Is Our Number One Concern
REQUESTS TO RETURN PRODUCTS MUST BE OBTAINED FROM Spy Associates WITHIN A TEN (10) DAY PERIOD AFTER THE CUSTOMER HAS RECEIVED THE PRODUCT(S).
All products which are special ordered by the person ordering and are NOT subject to cancellations. Due to the nature of our product line, returns will only be accepted for products damaged upon shipment to the customer*. All returns must be authorized by SpyAssociates.com before product(s) is returned. SpyAssociates.com will replace, refund, or credit your account for returned product(s) at SpyAssociates.com's discretion. We have been forced to implement this policy because of the attraction of our products to unscrupulous people who return products after they have profitably gained from the short-term use of the products.
*Special exceptions may be made on a case by case basis determined by SpyAssociates.com. In this event, returns are subject to deductions for shipping costs and a 25% restocking charge and must be returned within a ten (10) day period from date of receipt of product(s). NO refunds will be given for products returned without explicit permission from SpyAssociates.com.
You Are Guaranteed QUICK & ACCURATE Service
Any return must be authorized by a representative of SpyAssociates.com and under no circumstances will returns be accepted otherwise. Authorization and shipping instructions must be obtained from SpyAssociates.com. No returns will be authorized after ten (10) business days of receipt of product(s) by the customer, unless found to be defective, in which case we will replace at no charge once returned with authorized RMA.
We at SpyAssociates.com strive to offer our customers the best products at the best possible prices. Due to the nature of the products, returns will not be accepted unless the product is found to be defective or unless otherwise explicitly stated on the specific SpyAssociates.com product page.
Shipping & Handling Charges Are Non-refundable.
WARRANTY:
Every product receives FREE LIFETIME SUPPORT. We guarantee all SpyAssociates.com products to be free of defects in workmanship and material for 90 days (some manufacturer's warranty is one (1) year or lifetime - please see info on the page for specific product's details) after sale to the customer. We will replace or repair the product(s) at our option providing there is no evidence of customer misuse, or alteration.
This device will only connect to 2.4 GHz Wi-Fi Networks with passwords that do not contain special characters.
We are unable to guarantee Wi-Fi connection will work with all routers. Although most networks are compatible, certain routers enact stricter security measures that may block remote connections to the camera. Some examples likely to experience these issues are hotels/motels, corporate networks, 4g hotspots, open wifi networks like Starbucks, etc. Some WIFI units require the unit to be paired with a router if the end user is wanting to look at the livestream or receive motion alerts. Only compatible with Android 6 & up, iOS 8 & up. These items will need to format the MicroSD Card before use. This is done through the app.